She's worth an estimated $800 million, but Madonna proved she's still partial to a spot of penny-pinching on Tuesday when she was travelling in Economy class.
The music icon was snapped flying economy with Air Portugal as she boarded a flight from London to Lisbon.
Her fellow passengers could not believe their eyes as they watched the 59-year-old star swap first-class' added leg room and endless glasses of champagne for a spot by the window in the plane's cheapest section, where seats start from as little as £42.
Rarely spotted looking anything but glamorous, the Holiday hitmaker also opted for a modest outfit for the flight.
Instead of her usual glitz and glam, the award-winning musician instead donned frayed jeans, an over-sized jacket and pink Adidas trainers that looked as though they had seen better days.
While the singer is no doubt used to the finer things in life, she looked at ease as she settled in the economy, making the most of the restricted space by crossing her legs and browsing through her phone.
Also read: 16 Fascinating Secrets About Rihanna That Will Leave You Surprised!
Madonna had been visiting London, which is now the hometown of her eldest son Rocco Ritchie, who resides with his director father Guy in the British capital.
It's been reported that the Like A Virgin singer is now dividing her time between Portugal, the US, and the UK, after her son David Banda – who Madonna adopted from Malawi in 2006 – joined the Benfica youth football academy earlier this year.
It's claimed Madonna had been staying in a hotel in Lisbon, before finally snapping up her own property in the resort of Sintra, which is 17 miles from the Portuguese capital.
The American star now joins a string of A-list celebrities, including Michael Fassbender, Monica Bellucci and John Malkovich, who have purchased homes in the city.
Local media reported in August: 'Madonna is no longer a tourist, she now lives in Lisbon', hot on the heels of the news that she was 'uprooting' her family from their New York home to start a new life.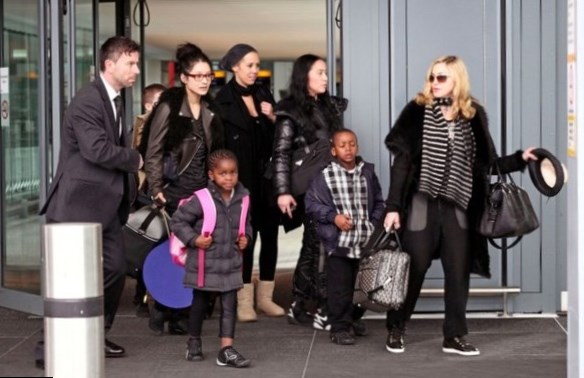 It's believed the actress has also enrolled David and her younger children, Mercy, 11, and five-year-old twins Stella and Estere, into the city's exclusive £30,000-a-year French Lycée.
David recently spent a week at Benfica and his prodigious talents impressed everyone.
Madonna is determined to give her kids every opportunity in life and this one is too good to pass up. She and the family will be moving to Portugal in time for the new school year in September.