Who doesn't love it (just a bit) when their eyes play tricks on them? Some good optical illusions put up an ever-so-subtle wall between our brains and our eyes. We get to feel, for once, how succinctly they usually work together because suddenly, they're not. It's a feeling that can put you out of sorts for a moment and throw you for a loop.
Here, let's play with your mind by using these optical illusions:
1. The not-so-dangerous rock.
I know, it looks like that poor little trash panda is about to be crushed by a falling rock, but don't worry, he's not in any danger. The reflection of the sky off the pond below only makes it look like the rock is falling.
2. The Checker Shadow Illusion.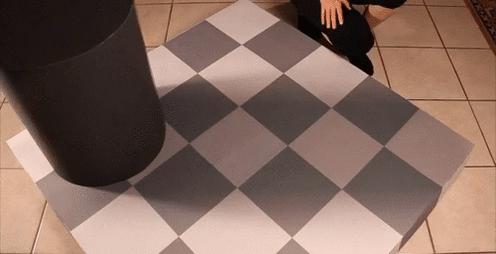 Until you see it in action, you don't often realize what a difference lighting can make. For example, in the Checker Shadow Illusion, two squares that appear to be very different colors under different lighting are proven to be the same color. That black cylinder's shadow is making the main difference basically.
3. The Horizontal Trees.
He's actually lying down on a fallen tree, with the camera tipped 90 degrees. The branches you might think are reflected in the lake are really just trees poking into the sky. This is just one of the awesome photography illusions.
4. The Penrose Triangle.
Also known as the "Impossible Triangle," this appears to be a solid, straight geometric shape from one angle, but from another angle, it becomes obvious that it's not what it seems.
5. The Flying Ship.
This mirage, called a Fata Morgana, makes it look like ships hover over water at a distance, and could explain the legend of the Flying Dutchman. Pirates of the Caribbean fans, remember?
6. Peripheral Drift Illusion.
Looks like these circles are moving, right? Nope, it's a static picture. It never moves at the point you're looking at, just out of the corner of your eye. Hence the name, peripheral drift illusion. Researchers aren't entirely sure why this illusion works that way.
7. Café Wall Illusion.
It's hard to believe, but all the lines here are perfectly straight and make right angles. It's just the way the white and black tiles are offset that makes it look like nothing's actually straight.
8. Perspective drawing and selective snipping create a pretty cool scene.
This is all lying flat on the table but looks like it's propped up. It might take a while to see, so feel free to stare for a bit.
9. This floor is actually flat.
The lines make it look like you might step into a giant pothole. This is just 3D art at its finest.
10. The lines make it look like you might step into a giant pothole.
This is one of the mind boggles that will fry your brain if you look at it for long and get the pattern.
11. Exact same photo left and right, even though it looks like they're taken from different angles.
The way they line up next to each other fools your brain just a wee bit. It helps to focus on the cars rather than the road. Focus on the road to stop the optical illusions with these photos.
12. What is this exactly?
Is this guy looking straight at the camera, or is he in profile looking to the left? Just keeping looking at it and try to find the is this.
These optical illusions might have been enough for you to get you scratch your heads. Just shower us with any more, that you have discovered and lets scratch our heads together =D
Recommended for You: 20 Rare Pictures Reveal The Unseen Side Of Things That Will Totally Change The Way You See Things