There are two types of students. The first type is of people who are well prepared and so ace an exam. The others are those who find out some tricks to cheat pass an exam. Because it is easier to cheat that to repeat.
Here is a list of 13 Tricks that will help you Cheat in an Exam.
1. This trick can be used only by girls and is absolutely a safe way to elude supervisors. Also, there is an enhanced advantage for girls if the supervisor is a male.
2. Another way girls can copy in an exam. This is one of the very famous tricks because no teacher would dare to look at your thighs. 
3. Similar to the previous method but with a wider approach.
4. This trick can be used if all the questions in a test are formula based. However, you would need to sacrifice your watch if you want to copy using this method. However, if the test is an important one, it is worth a shot.
5. Pretend to have an injury on your arm and write formulas beneath the band-aid.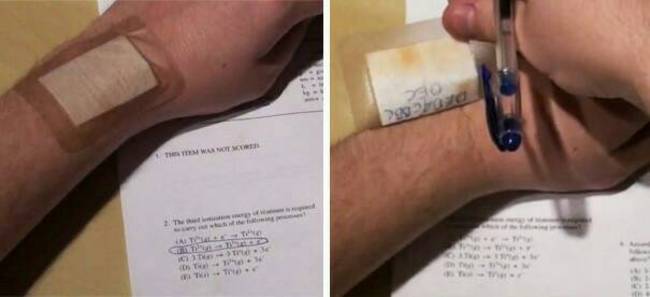 6.  Such pens are easily available in the market. All you need to do is replace the existing sheet of paper with one that can be used to your undue advantage.